ANDERTECH represents ProTec in the Nordics.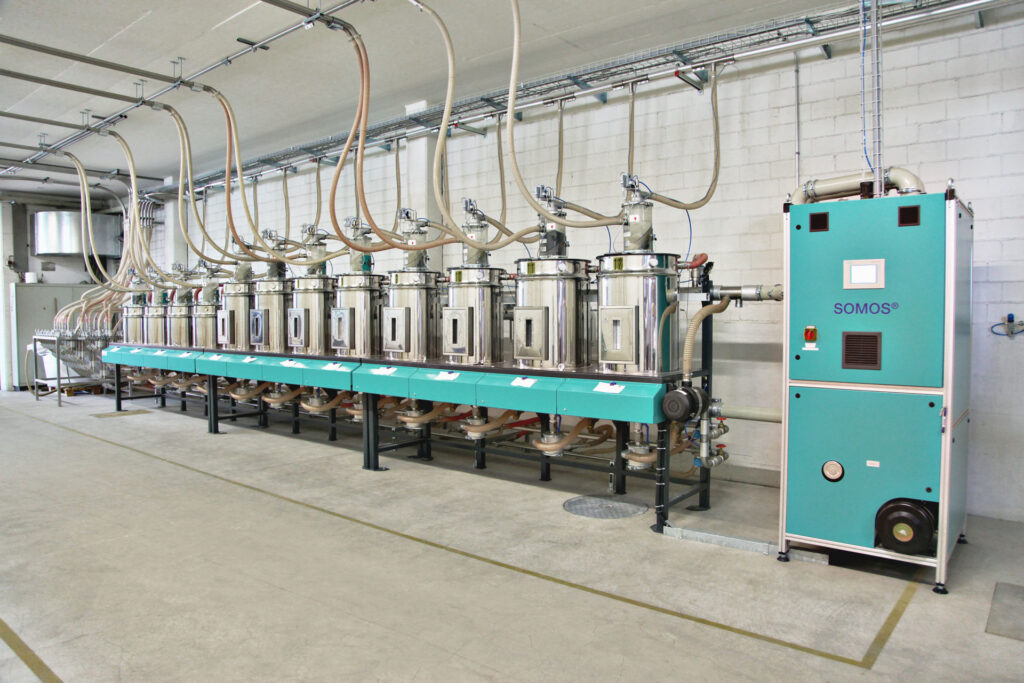 ProTec Polymer Processing GmbH is an international one-stop shop supplier to the plastics industry with a focus on injection molding, extrusion and blow molding.
Its range of services covers components, solutions and turn-key systems for efficient materials handing, treatment and recycling of plastics and for manufacturing long fiber reinforced thermoplastics using LFT pultrusion lines.
The SOMOS RDM range of mobile dryers is designed for drying highly flowable, hygroscopic polymer pellets and regrind. They can be used flexibly as auxiliary units for supplying processing machines for moderate throughputs, which is a particular advantage for frequent material changes.
Optimum air distribution in the material being dried ensures uniform drying results.
- Equipped with energy-saving technologies which automatically respond to changes in ongoing operation
- Tailored to handle moderate throughputs of 5 kg/h to 150 kg/h
- Drying temperatures of 60°C to 140°C at a drying air dew point temperature up to -40°C are standard
- Industry 4.0 capable
Stationary drying systems
Modular SOMOS stationary drying systems D-series are designed for moderate to large throughputs of over 1,000 kg/h.
They are suitable for efficiently drying virtually any kind of hygroscopic polymer pellets and regrind.
The material is dried with heated drying air, and optimum air distribution in the material being dried ensures uniformly good drying results.
ProTec designs and supplies RDC drying systems made to measure for all polymer processing processes.
- Equipped with energy-saving technologies which automatically respond to changes in ongoing operation
- Simple commissioning and servicing
- Dry air generators for large drying systems with bin sizes of an effective volume of up to 10,000 l are available
- Designed as standard for drying temperatures of 60 °C to 140 °C, a high-temperature version for up to 200 °C also being available
The SOMOS stand-alone material conveyor is used for conveying virgin, re-grind and powder.The material conveyor comes with programmable control functions for conveying and filter cleaning.
The conveyor is available with internal or external blower depending on capacity and application.
- Throughputs of 1 kg/h to 5,000 kg/h over a distance of up to 150 m
- Automatically self-cleaning conveying air filters are available as an option
- Depending on throughput and material properties, various models with volumes from 1.5 l to 280 l are available
Central conveying systems
SOMOS multiple feed conveying systems are suited for both small to very large conveying capacities.
They operate by the pneumatic suction conveying principle and convey any plastics processing materials at throughputs of 1 kg/h up to 5,000 kg/h over distances of up to 150 m.
Transparent polyamide and stainless steel housings are available.
- Automatically self-cleaning central filters
- Safety filters
- Material sorting gates
- Depending on requirements, various user-friendly controllers are available, some with communication interfaces to the customer's PDA and ERP systems
Perfoamer - CO2  based foaming on standard machines in standard moulds
ProTec has developed a peripheral system, which enables straightforward integration of a novel physical polymer foaming process into existing injection molding lines.
The innovative process involves loading dried pellets with CO2 in a pressure vessel and then feeding them to the injection molding machine.
The novel process thus combines the easy of handling of chemical foaming processes with the high foaming pressure of physical foaming.
Processors will in future be able to integrate the new system quickly into their manufacturing lines, since existing injection molding machines, depending on the particular model, will require little or no modification.
The novel foaming solution is particularly suitable for manufacturers in the automotive industry wishing to produce lightweight components in order to cut consumption of resources and emissions or to increase the range of electric vehicles.
- Achieves material savings of up to 60 per cent
- Virtually any usual polymers can be used, including bio-based and engineering materials and composites such as glass fiber reinforced polyamide
- Mobile unit with central, Industry 4.0 capable controller
- Modular structure means it can easily meet changing requirements and be expanded with additional components