WEIGHING INTELLIGENCE 4.0
STEN Weighing Intelligence 4.0 – is a completely new design platform for industrial weighing systems.

Everything (hardware, software, electronics) is proprietary technology created in Humlebaek, Denmark.

The units can work autonomously but are easily integrable as well.
THINNEST SCALE ON THE MARKET
• Thinnest scale on the market - 38 mm low !
• Modular
• Precise and easy to operate
• IoT included as standard, also works independently.
• Easy control and operation through a touch color display
IoT = in this case, means that we have integrated Bluetooth communication as well as WiFi connectivity already in the standard configuration.
We even offer intelligent Cloud services – if you want intelligent data recording and communitations.
• Smartphone/tablet app – for bluetooth settings
• Local Web Access
• A-Link connectivity for central overview – same platform that control your raw material handling system.
• Cloud SAAS solution with real-time web access
• Stainless steel version
• Special version for outoor use

• Dimensions U-Frame version: 800 mm x 1.200 mm x 40 mm
• Dimensions Plate-version:
900 mm x 1.300 mm x 38 mm + ramp 248 mm x 900 mm
• VoltageSupply 240 V AC 50 Hz operates internally at – 24 V DC .
• Capacity / range:1.600 kg • Accuracy:+/- 2 kg
• Other sizes and weighing ranges possible upon request.
• Special stainless steel version for outoor use



ANDERTECH A/S has developed a new type of hopper loader that makes handling of plastics granules easy.
The 3D printed CONRADT is smaller, lighter and cheaper – compared to other loaders – and will save resources as well expenses.
Working on the venturi principle, is specifically developed for the conveying of MasterBatches and other free flowing plastic granules in smaller amounts.
As the loader does not create airpressure i the machine/dosing hopper, it is suitable for use on sensitive weighing/dosing systems.
For specific critical and sensitive cases, CONRADT has (as standard feature) input socket for an suction allowance signal given by the gravimetric blender.
All the CONRADTS are produced on our own 3D printfarm in Humlebaek, north of Copenhagen.
We have reach full capacity and supply Globally through autohorized distributors.

The electronic control, also developed in-house, is very logical, easy to understand and easily operated.

Your can adjust conveying/suction time and the number of faulty loadings before the alarm will be set.

CONRADT has a very bright LED indicator ring signalling actual status and helping do the programming of parameters.

Power is connected by a CAT6 cable.

CONRADT is prepared for Industry 4.0 and can be supplied in a special version ready to integrate into central control systems.

CONRADT has a weight of only 1.200 grames and is supplied ready to operate including 3 meters of conveying hose, stainless suction pipe, 2 hose clamps, mounting flange with selflocking bajonet connection, power supply and cable.
Conradt is supplied ready to operate including :
• 3 meters of conveying hose
• Stainless suction pipe
• 2 hose clamps
• Mounting flange with selflocking bajonet connection
• Power supply
• Cable


Color change in just...
...60 seconds!
The brand new innovative and flexible CONRADT TROLLEY TM allows fast and accurate color changes to be made in just 60 seconds... ... without wasting even a single granule ! Few steps:

1. Position the next production color Trolley-Unit next to the present one
2. Close valve below CONRADT Loader in use
3. Unplug compressed air and 24V power
4. Moove the CONRADT unit including hopper and hose onto the CONRADT TROLLEY TM
5. Take the dosing screw unit from the machine and empty it into the CONRADT TROLLEY TM
6. Position the next color CONRADT onto the dosing unit and open valve
7. Plug in air and 24V and RUN…
From your file - to your product - in next to no time
Harvest the advantages of AM technology, giving you flexibility in your design process and minimizing turnaround time. You will be able to, without consequences, change and optimize your product as it evolves through market feedback and customer reviews. No longer will you be limited by tooling costs and manufacturing limitations such as shape and tool access
We have 60 3D printers, and growing, ready to mass produce your items.
220mm x 220mm x 220mm
In a new department we 3D print up to
1.250mm x 600mm x 700mm
Our engineers are ready to help you with ADM product optimization and ensure that your 3D product requirements are met.
Don't be limited by conventional manufacturing methods. Rethink your product to take advantage of ADM technology.
We can produce a wide range of products with extremely flexible 3D production sizes. No tooling and minimal setup costs.
COMPETITIVE 3D PRINT PRICES
Get a quote now on 1 - 10 - 100 - 1000 pcs.
Versatile, strong and flexible INFOstand for your production cells.
With the ANDERTECH INFOSTAND you have a perfect and flexible workstation, customized fittings as you need
Tool Suspension Assortment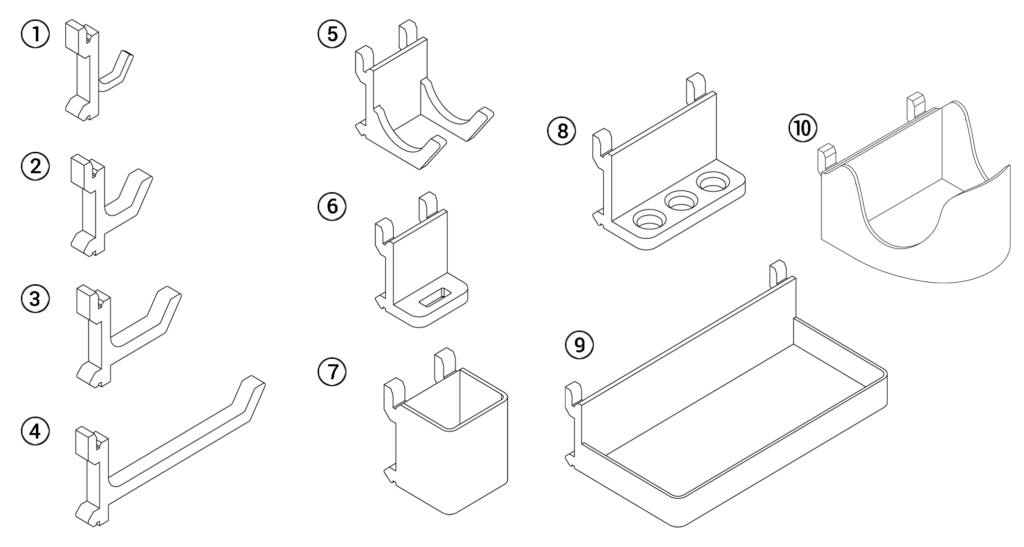 1. Small narrow hook - 25 mm Item 3D/00062
2. Small hook - 25 mm Item 3D/00054
3. Medium hook - 40 mm Item 3D/00055
4. Large hook - 100 mm Item 3D/00056
5. Double hook - U-type, Item 3D/00058
6. Sliding tool holder -00x00x00 mm Item 3D/00057
7. Ruler holder - 42x00x00 mm Item 3D/000061
8. Screwdriver holder - with 3 holes Item 3D/00059
9. Large storage tray - 178x80x20mm Item 3D/00060
10. Can holder - 85x885x60mm Item 3D/00063
If you have specific requirements,
the tool suspension items can be customized.